On this page you will be able to find the latest up-to-date Gold and Silver spot price and Currency Charts compilated for your convenience from data provided by Kitco.
Bookmark this page today in your Favourites for fast and easy reference.
---
[grid_1]
[/grid_1]
[grid_5]
Gold and Silver
$US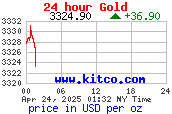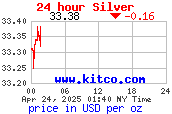 [/grid_5]
[grid_5]
Canadian Dollar
vs. US Dollar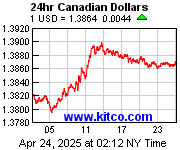 [/grid_5]
[grid_5]
Gold and Silver
$CDN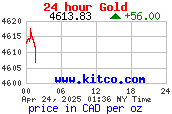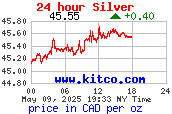 [/grid_5]
[clear]
DISCLAIMER
The above Graphs and Quotes are courtesy of Kitco.com, and/or its affiliates.
These Graphs are used with the complete understanding that neither Kitco or its affiliates or their staff, or
The Coin Collector and any affiliates or staff will be held responsible for any information that appears on them.
These should not be used as a tool for either investment or to buy/sell any currency or Precious Metal.
As such, these quotes are NOT either an offer to buy, or to sell, by either TCC or Kitco. Please obtain professional
advice before making any decision to buy / sell. The Coin Collector or Kitco cannot be held responsible in any manner
for any losses incurred that may or could be incurred by any reliance on these charts.
Contact us with any questions you may have:
Phone/text: (647) 222-9995
Email: sales@thecoincollector.ca
---
NOTE: These prices are provided as a guide only to buyers and sellers of precious metals. These prices are thus not an offer from The Coin Collector to either buy or sell any of the precious metals listed above. The Coin Collector, its directors, managers, underwriters and employees cannot accept any responsibility for any inaccuracies and/or errors in these precious metals quotes, and any profits or losses that result from the use thereof. All information is provided courtesy of Kitco Inc. Users of this information should also view the disclaimer provided by Kitco Inc. regarding the sources of this information.